Questions and Answers

We group the questions and answers under the major headings of Money, Skilled Nursing Facility (Building C'), Building D and Quality of Life.

Money
Won't rents have to increase with the Alternative Plan?

Market competition will not allow rents to exceed competitive neighboring Continuing Care Retirement Communities (CCRCs). Monthly fees will always rise consistent with the cost of living increases.
Isn't it the case that costs of the Independent Living construction of both plans are basically the same, but it is the $35 million extra for proposed SNF that is the major difference between PRS and Residents Alternative Plan and is the reason residents should be rejecting the Alternative Plan?
Independent Living construction costs are NOT the same between the two plans. We estimate that the Alternative plan Independent Living solution is $29 million cheaper, due to the use of a single residential structure which already has the major utilities on the site as opposed to 3 apartment buildings, each with their own garages and no utilities on site. The Skilled Nursing Facility's $35 million constructions cost is included in our total cost (Bld. C' + D) and is not an additional cost. Both Plans come out about the same total cost.
Wouldn't the move of skilled nursing to a new building require the demolition of the existing nursing center which would cost at least $750,000 or more?
We have included this cost in our estimates.
Isn't it the case that no new monthly fee revenue would be generated at least 7 years with the Alternative Plan?
Both plans would reach the point of full revenue generation from 52 apartments at about the same time (the three IL buildings of the PRS plan are likely to be be phased). We have taken the delayed revenue in the Alternative Plan into account by including a cost of money on the full value of the Skilled Nursing Facility for two years. The total costs for both plans are essentially the same.
Why is there a need to spend $35 million on a new Skilled Nursing Facility when PRS can remodel the existing Health Care Center over a period of years for $7 million?
We stated that the overall cost for the two plans runs about the same, $89 million. Our Skilled Nursing Facility (Building C') costs $30 - $35 million according to PRS and we don't disagree , although we get there very differently from the way they do.
The real saving in the Alternative Plan comes from the cost of the Independent Living apartment building(s). We estimate PRS costs for their 3 Independent Living buildings runs about $29 million more than the costs for our one Independent Living building (Building D). Add to that our estimated cost of the existing Health Care Center renovations of 52 rooms (PRS's number) of over $7 million and it becomes clear that the cost of the new SNF is completely offset. The result is PRS saves nothing in overall $ with their "tear up the campus and band aid the HCC" approach.
Skilled Nursing Facility (Building C')

How would you organize the interior of Building C'?
We stated we hadn't designed the interior of Building C' but there are a variety of ways to do it.
Our outline plan for Building C', with units at 350 sq ft each, places 16 units for short term patients (usually rehab out of hospitals) on the top floor and 24 units for long term (residents who first lived in SRC Independent Living, public and Medicaid) on the ground floor.
The full kitchen, 1500 sq ft, is on the ground floor. Each floor has its own patient dining room, approximately 1000 to 2000 sq ft. Food service to the top floor is provided by an installed dumb waiter service.
Therapy areas are on both floors and in the east end basement floor. The therapy on the basement floor has outside access to provide for out-patient care.
Each floor has its own nurse's station, medicine room and soiled laundry room.
We include two elevators, plus stairs. Offices, conference room, etc are on either or both floors as well as the east end basement.
We calculate use of about 16,000 sq ft on the ground floor, about 13,000 sq ft on the top floor and 6400 sq ft in the basement. This plan is consistent with our C' sq ft per floor and we still have flexibility in size and choice of spaces.

Wouldn't taking patients in wheelchairs up/down an elevator three times a day for meals be impractical?
Each floor has its own patient dining room and therapy room. There is no need to move patients from floor to floor. In addition, most long term patients have meals in their own rooms.

Wouldn't providing skilled nursing on two stories be total inefficiency in staffing, as it would require two nurse's stations?
We have two nurses stations in the current HCC as needed for response times. We believe nurse (Registered Nurse, Certified Nursing Assistant and/or Licensed Vocational Nurse) response times are better served by maintaining nursing stations on each floor.

Wouldn't two dining rooms require extra staff that are hard to find and expensive?
Our proposal integrates a full service kitchen within the Skilled Nusing Facility. This eliminates the delivery of meals from the Assisted Living kitchen. As well as providing freshly cooked, hot meals to the patients, this eliminates the need for meal delivery staff. The four or five wait staff required for 40 patients can readily be allocated between the two dining rooms as needed.
Wouldn't a two-story skilled nursing limit resident access to outdoor space?
Access to outdoor space is available to patients on both floors. Private outdoor space is provided in the same way as for the PRS Building C proposal. Every room has either a private patio on the ground floor where the grade permits, or a private balcony. Care will be taken with guard rails etc to ensure patient safety.
Wouldn't emergency exiting through only the west side of the SNF building be insufficient?
Ground level emergency access/egress is through the Main Entrance at the west end with a covered drive up area and ambulance turning circle on Colfax Lane. Additional ground level access/egress is provided through the North Entrance on Odd Fellows Drive and the South Entrance. Basement level access/egress is provided through the Day Use Entrance near McLaren Lane and the Level 1 Parking Entrance on Odd Fellows Drive.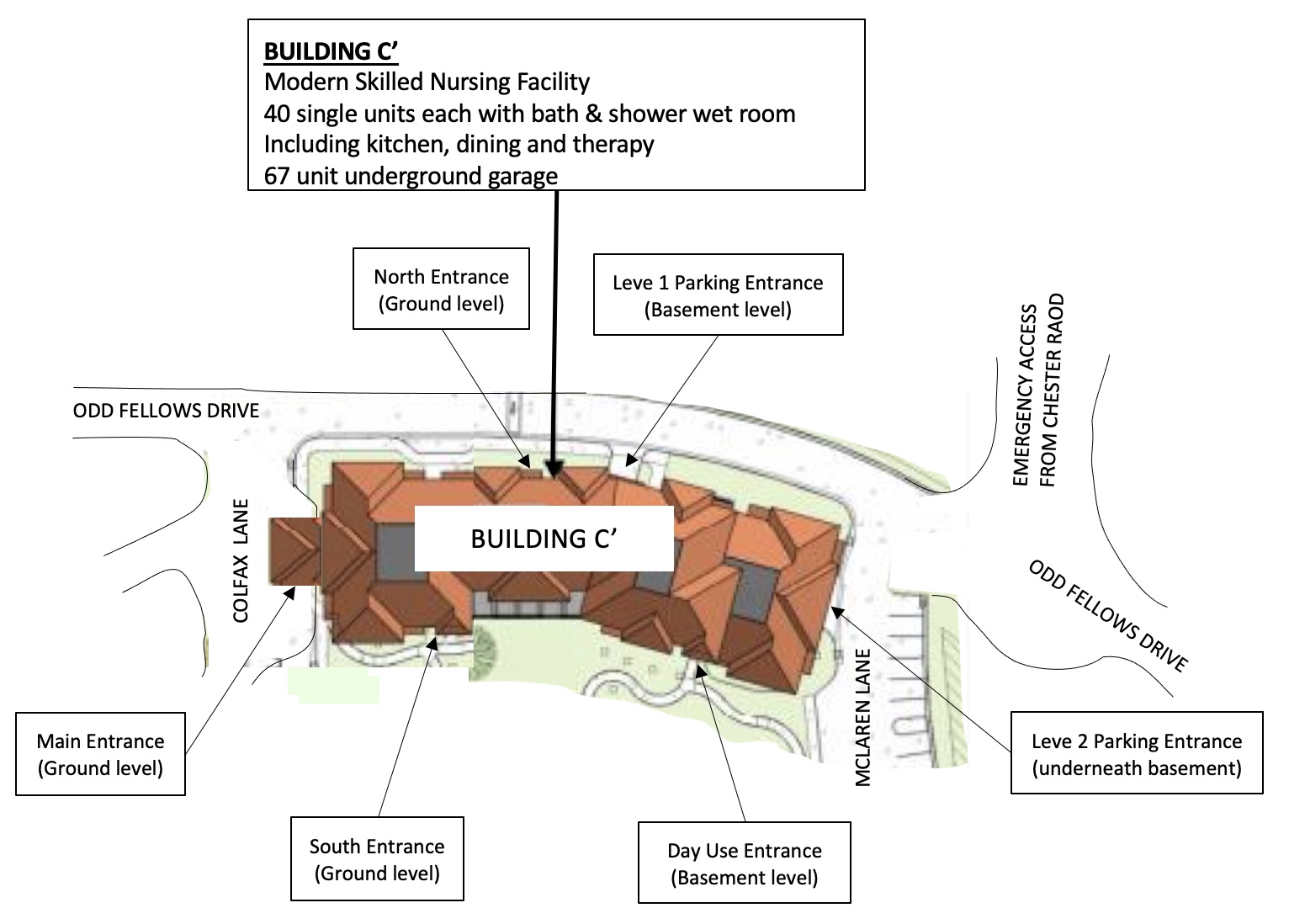 Use of two elevators for evacuating the 16 patients on the top floor will be relatively easy as many short term rehabilitation patients are mobile and they can also exit at ground level via the stairs.
Putting a 40,000 sq ft building into a 15,000 sq ft footprint leads to complications. Are you aware of any Health Care Centers that are multiple stories, and, if so, what is their experience?
An excellent example is the the San Francisco Health Care and Rehab (
http://sfhcr.com
), 1477 Grove St. San Francisco. This facility was ranked as #5 Best Nursing Home in California and #1 in San Francisco by Newsweek based on the Statista data. Normally they have 168 beds, but fewer now because of Covid. They have 2 separate floors for patients on the 2nd and 3rd floors. Physical Therapy and recreation is on first floor, with further Physical Therapy on 2nd floor. There is no dining facility as they bring food to patients in their rooms. There are nurses station on each floor, staffed by CNAs, registered RNs and LVNs. There are 3 elevators and a staircase. During an emergency they use an intercom to evacuate patients efficiently.
Isn't approval for a four story building difficult to obtain?
Describing this building as four story is misleading. The building is treated by the City for approval purposes as two story plus basement plus underground garage (exactly the same as the PRS proposal for their Building C). As such it is identical to the existing 5,000 building and would not violate the City's two story height limitation, which is likely to be relaxed in any case.

Doesn't OSHPD approval take much longer to approve than the Alternative Plan allows?
The time issue really comes down to design and permitting of the Skilled Nursing Facility. Our understanding of the the PRS claim is it will take 3 years (design and OSHPD permit done in series) where we believe with modern approach to OSHPD it will take 18 months (design and OSHPD permit). We have based our timeline on input from contractors who are active in the business and built OSHPD facilities in California. Our understanding of the PRS timeline is 1 year design, 2 years for OSHPD permit and 2 years for construction, giving 5 years total to get a new SNF. Our plan uses 18 months for design and OSHPD permit and 30 months construction, but adds the 1 year for City approval, also giving 5 years total.
Building D
Shouldn't Building D be 3 stories to allow for a number of 2,000 sq.ft. luxury units (note, the City does not permit 3 stories normally)?
52 adequate size apartments are possible in the planned 2 floors plus basement Building D, similar to the approach taken in the existing 5000 building.
Wouldn't residents need to walk-up the Colfax hill to get to the elevator in Manor in order to access dining?
Many Cul-de-Sac residents today walk up their hill without problem, and for those residents who use walkers, the SRC van provides a shuttle service. The van service can be extended to Building D residents.

Doesn't there need to be more parking to accommodate 3rd party "outsiders" (non-residents) to use the Auditorium (note, this provides SRC some revenue)?
The Alternative Plan does not remove the existing surface parking for visitors and adds spaces in the garage under the auditorium. In total, the Alternative Plan adds more parking spaces to the campus than the PRS plan.

Quality of Life Issues
PRS repeated their offer to delay building on the Historic Park for up to 7 years to appeal to residents currently living at SRC. Future residents by that time would have all been warned that PRS will be constructing a campus-wide expansion project. Wouldn't they know what they're getting into and so cannot complain about the project in good faith?
We have already heard from new residents that even though Marketing had advised them of the project, it did not really have an impact on them until they moved in and could see realistically what an enormously negative effect the in-fill of structures, sprawled throughout the campus, would have in a real-world scenario. You need to see it to believe it and showing it to the new residents on a map simply does not present a realistic portrayal
I'm already concerned about reaching Fruitvale Avenue in the case of a fire, but what happens when more buildings, residents, staff, cars, and emergency personnel and their equipment are added? Even the second entrance I keep hearing about sounds vague and an evacuation plan and infrastructure not seriously thought out.
Efficient and safe emergency evacuation is critical for all residents.
Yes, it does seem that there will be a second exit onto Chester Road. In addition, if either the PRS proposal or the Residents' Alternative goes ahead, then the Fire Department is insisting on a third emergency vehicle only access, also from Chester Road. Our proposed site for the new Skilled Nursing facility is immediately opposite these two exits, thus simplifying emergency evacuation of our most vulnerable residents. This is a plus for our plan.
The PRS proposal increases the number of residents who would have to use West Cottages Lane to exit onto either Fruitvale Avenue or Chester Road.

Wouldn't the demolition of the existing nursing center require countless dump truck trips to and from the site?
Both proposals require a significant number of dump truck runs to carry away the dirt that has to be excavated for the underground garages. However, we estimate that the PRS proposal requires nearly double the number of dump truck runs than is required by the Alternative Plan. Even adding on an estimate for carrying away the demolished Health Care Center, the total disruption to the campus will be significantly less with the Alternate Plan. In addition, the disruption under the Alternate Plan will be at the eastern edge of the campus, not in the center of the campus.
Miscellaneous
Is the statement by PRS that the Alternative Plan will not be considered by the City correct?
Cynthia Richardson, Saratoga City Consultant Planner, told us "The Residents' Alternative plan has been forwarded to the EIR consultant for consideration in the alternative's analysis of the project EIR."

---

Preserve SRC Campus is an informal organization whose members are residents in the Saratoga Retirement Community

This page last updated on September 14th, 2021. Any problems with this web page? Please email the administrator.
©2021 Preserve SRC Campus. All rights reserved.